Welcome! We're Thrilled That You've Discovered FuzeBug!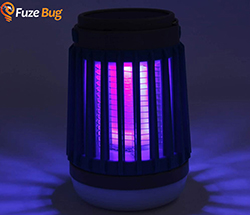 In the summer, mosquitoes and moths invade our home. In winter, flies and spiders search for a warm place to spend the season. Are you tired of having to share your living area with creepy crawlies? Would you prefer there was a humane way to get rid of them? All of it is possible now, with FuzeBug! It's a chemical-and-UV-free insect zapper that will effectively rid your personal area from annoying bugs and insects, regardless of the season. So, you can go camping, have dinners outdoors, go to sleep with your windows open, and overall protect your home from all kinds of insects. Safe and easy!
What makes FuzeBug so special?
Firstly, unlike many similar devices, FuzeBug is completely safe and contains neither chemicals nor UV light to attract insects or bugs. It does have an adjustable LED light, which is more than enough not only to shine your way in the darkness, particularly if you're spending time outdoors, but also to use it as a subtle night-light to protect your sleep from all kinds of insects. Secondly, FuzeBug is completely weatherproof so that you can keep it outside throughout all seasons of the year, and neither extreme heat nor rain or snow will damage it. Finally, FuzeBug is exceptionally low maintenance. It comes with its own brush, so all you'd have to do is simply wipe it, empty the shell from debris, and that's it! So, when it comes to effectiveness, simplicity of use, durability, and convenience, FuzeBug is second to none.
What our customers are saying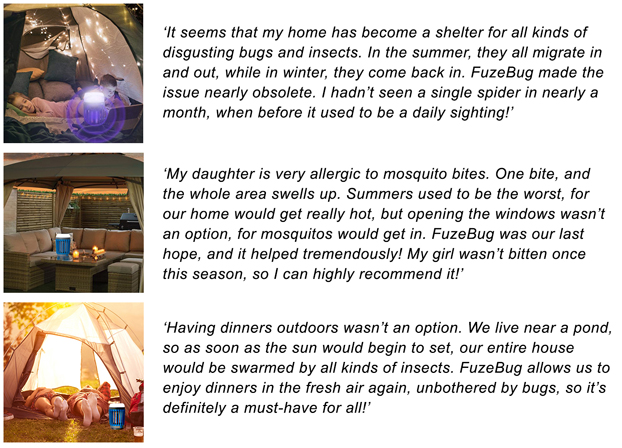 How to purchase FuzeBug?
Get rid of annoying bugs and insects! Get FuzeBug insect zapper today, now 50% OFF!
FuzeBug can be purchased in 4 SIMPLE steps:
Choose your country from the list
Click on the "Buy Now" button
Fill out your shipping information
Let us take care of the rest!